Michael Yeatman of Holy Cross placed second in the Division II state championships, was 4-0 and was the top seed of the 11 wrestlers competing at 220 pounds. Josh Tapia, who finished 2012-13 fourth in Division I was the second seed, followed by C. E. Byrd's Quin Gilliam. Belle Chasse senior Logan Thompson, also a Division II runner-up, was seeded fourth with St. Louis' Robert McPherson, Rummel's Tyler Fontana and East Ascension's Austin Guedry comprising seeds 5-7.
In his four matches prior to the Spartan, Michal Yeatman pinned all four opponents, with only two matches lasting long enough to require a second period. His opponent, Quin Gilliam of C. E. Byrd, had yet to wrestle an actual match. In 2012-13 Gilliam placed sixth at the Ken Cole and did not participate in the state championships.

Both wrestlers were tentative in the first period, with only Yeatman taking a legitimate shot at the end of the period but not scoring.

In the second period Gilliam rode Yeatman well, stopping one Granby roll escape attempt but yielding to a second one, giving Yeatman a 1-0 lead. That lead held for the remainder of the third period.

In the third period Gilliam almost scored on a stand-up switch attempt, but that also almost ended up putting the Byrd wrestler on his back. But with 45 second left Gilliam was able to stand up and escape, tying the match at one apiece. Yeatman almost immediately attempted a single shot, but Gilliam sprawled hard on it and spun behind the Tiger for a takedown and a 3-1 lead. Yeatman did another Granby roll but the two went out of bounds. Yeatman let go of Gilliam as they did and Gilliam hit an area of the gym floor between the match mat and a warm-up mat. (Why the warm-up mat was not adjacent to the match mat, which would have prevented Gilliam hitting the gym floor, is not known. That none of the wrestlers on the warm-up mat positioned themselves to prevent Gilliam from going out of bounds to hit the gym floor is also not known.) Yeatman did receive an escape point making it a 3-2 match, but Gilliam was able to hold off a furious attack by Yeatman in the waning seconds of the round to prevail.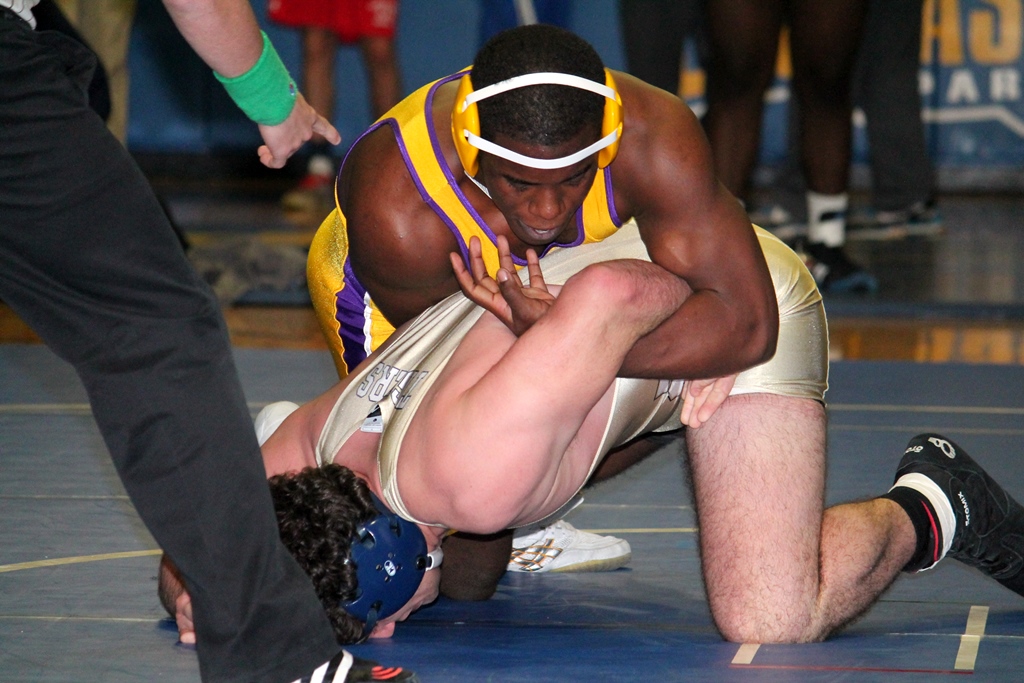 Byrd's Quin Gilliam applies an arm bar on Holy Cross' Michael Yeatman in the 220 pounds finals.