Upon first glance 160 looked to be a fairly weak weight class, but it also had seven seeded wrestlers. Alexander Kellar of Teurlings Catholic had only wrestled one match this season prior to the Spartan Open, and that was a 5-4 loss to Shaw's Brice Ballas. Nevertheless Kellar, who placed fourth in Division II in 2013, was the top seed, followed by local Spartan wrestler DeQuan Jackson. Dutchtown's Gabe Arceneaux was seeded third, Zachary's Daniel Rittell fourth, Catholic's Morgan Root fifth, Brother Martin's Anthony Schneider sixth and Jarrett Moss of Baton Rouge was seeded seventh.
The finals was a defensive struggle for the first four minutes, with Rittell scoring the only point, an escape after 50 seconds had elapsed in the second period.

The third period was much different. Arceneaux started on the bottom but could not manage an escape. In the end Rittell managed a bar-arm and ran it forward, taking Arceneaux to his back and pinning him in 5:01.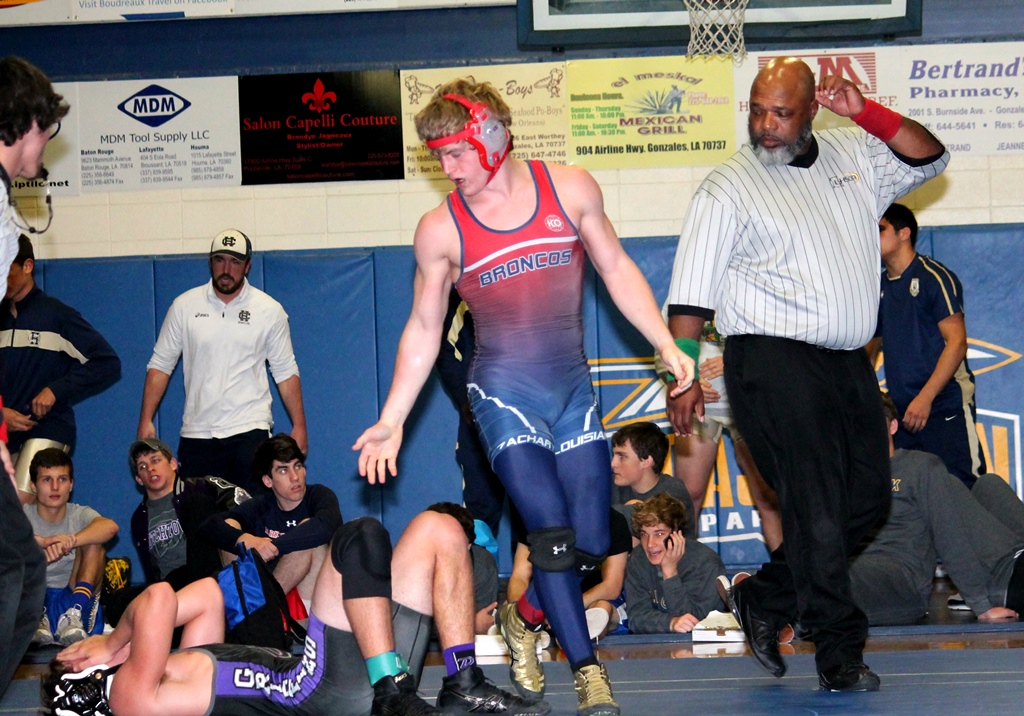 Zachary's Daniel Rittell offers a hand to Gabe Arceneaux after pinning the Dutchtown wrestler in 5:01.
QUARTERFINALS:
Oddly, it was the two finalists who had the most trouble in the quarterfinals. Rittell slipped past the #5 seed Morgan Root of Catholic 6-4 while Arceneaux had a difficult a time with #6 Anthony Schneider of Brother Martin, prevailing 4-2. Kellar and Jackson were mirror images of each other almost. Kellar pinned Pearl River's Christian Breedlove in 3:05, besting Jackson's pin over seventh seed Jarrett Moss of Baton Rouge by five seconds.
SEMIFINALS:
After tough quarterfinal matches both Rittell and Arceneaux had fairly easy time in the semifinals. Rittell pinned the top-seeded Kellar in 2:30 (photos left) while Arceneaux defeated Jackson 10-5 (photos right)
CONSOLATIONS:
From all appearances second seed DeQuan Jackson of East Ascension wrestled much better than the final 5-3 score indicated against top-seeded Alexander Kellar of Teurlings Catholic. But even that was not to be. Near the end of the match Kellar cross-faced Jackson rather hard. At the end of the match the official stopped to check Kellar's forearm and saw what looked like teeth marks. Jackson was disqualified for biting and Kellar was awarded third place. As surprised as everyone else was, Kellar, showing commendable character, stated he did not recall Jackson biting him. Most believe the marks were left unintentionally as the result of a cross-face on a tired wrestler in the third period of a match, who happened to be breathing through his mouth at the time.