Fifteen wrestlers weighed-in for the 120 pound championship. The home team's Jacob Bernard was seeded first after wins over Basile's Raymond Bushnell and Brother Martin's Ryan Genco at the Griffin Open. Bernard also owned a 6-3 victory over Catholic's Joshua Matthews in a November 7th dual meet. It was the top two seeds who met in the finals.

This weight class was replete with talent. Basile's two-time defending Division III state champion Raymond Bushnell was seeded fourth behind Genco, who had the #3 spot. Holy Cross' Beau Bush was seeded 5th.
Bernard and Matthews advanced to the finals.

The top seed started off with a takedown quickly, scoring on a double-leg at Mathews' ankles. Matthews was able to escape to cut the lead to 2-1 and while very aggressive wrestling followed, neither competitor was able to score again in the first period.

Starting on top in the second period Matthews applied a far-arm-near-leg on Bernard, turning the Spartan over, scoring two nearfall points and taking a 3-2 lead. Bernard was able to stand up and escape to tie the match 3-3 before the round ended.

Starting on bottom in the third period Matthews stood up for an escape and a 4-3 lead. Neither wrestler held back - Bernard knowing a takedown could win the match and Matthews knowing a stalling point could lead to a "Sudden Victory" period. At the end Bernard shot a deep double-leg, but the two wrestlers ended up out of bounds as time ran out, preserving Matthews' 4-3 championship.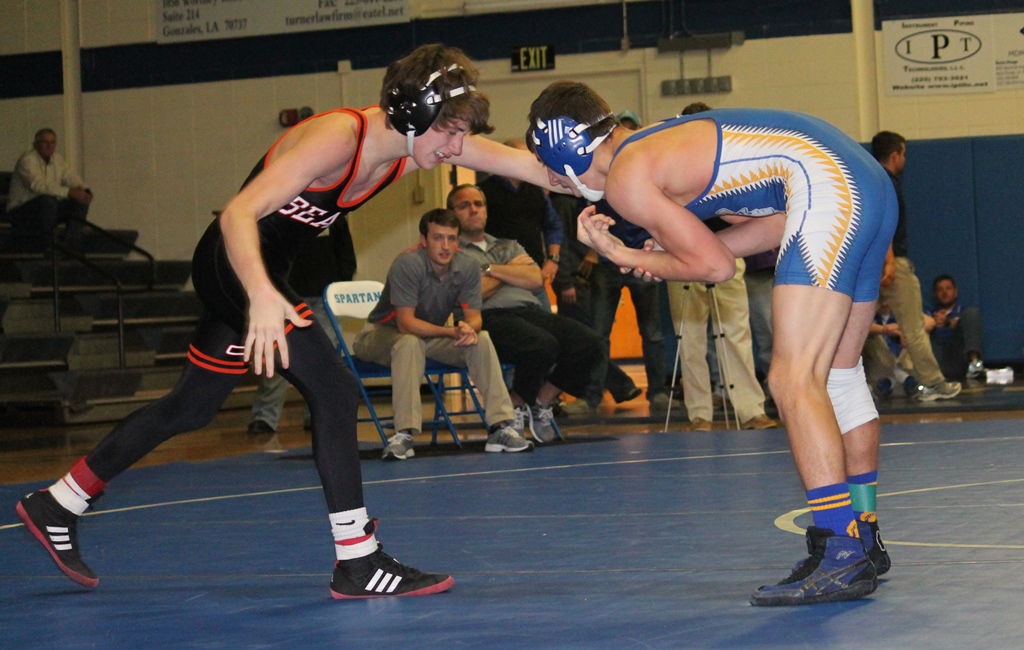 Catholic's second seed Josh Matthews eked out a 4-3 win over top seed Jacob Bernard of East Ascension.
QUARTERFINALS:
#4 Bushnell and # 5 Bush finished 6-6 at the end of regulation in their quarterfinals match. In the Sudden Victory period, Bush appeared to have the upper hand early but Bushnell somehow, for lack of a better word, "squirrelled" his way out of a single-leg which initially placed him on his back, and ended up on top for the win (photos below).
Comeaux's Hunter Fitch gave Genco a tough quarterfinals match, but the Crusader prevailed 5-1 to reach the semifinals (photos below).
In the other two quarterfinal matches Bernard pinned Dutchtown's Charlie Pettiss while Matthews did the same to Byrd's Alex Williams.
SEMIFINALS:
At the Griffin Open East Ascension senior Jacob Bernard shut out Raymond Bushnell 3-0. Bushnell made this match even harder but Bernard won again, this time 4-2 (photos left).
Matthews and Genco had met in the Warrior Open, a match won by Matthews by a 2-1 score. In this match Matthews dominated his Crusader opponent, allowing only one point while scoring six of his own (photos right).