There were 17 wrestlers competing for the 152 pounds title. At the top of the seeding was Catholic junior Matthew Mire, whose seven wins included one over Division III state champion Marshall Hill of Parkview Baptist. Mire's two setbacks have been to three-time Division III state champion Trevor Schermer of Brusly and Jesuit's 2013 Division I 145 pound runner-up Efosa Eboigbe. Hill was seeded second and third was Brother Martin junior Mason Williams. The older brother of the Spartan 145 pounds champion, Williams placed a surprise fourth at the state tournament in 2013. Another state champion was in the mix also. St. Louis' Lehrue Stevens, IV, won the 152 pound Division II title last year. Teurlings Catholic Brennan Trosclair was seed fifth, followed by Rummel's Mandeville Open champion Joe Kerry.
The finals was an aggressive yet low scoring affair. Both wrestlers took shots in the first period but neither garnered a takedown, and the period ended 0-0.

Mire took bottom to start the second period and escaped after 25 seconds. After a brief delay near the end Mire was able to score a takedown for a 3-1 lead.

Williams escaped in the beginning of the third and the two spared for most of the remainder of the period. But with less than 10 seconds left Williams scored a takedown on a lateral drop to tie the score at 3-3and the match went into a "Sudden Victory" period. A duck-under to a double-leg attempt by Mire failed when Williams shucked him aside and dragged his arm to get behind him, leading to a 5-4 win.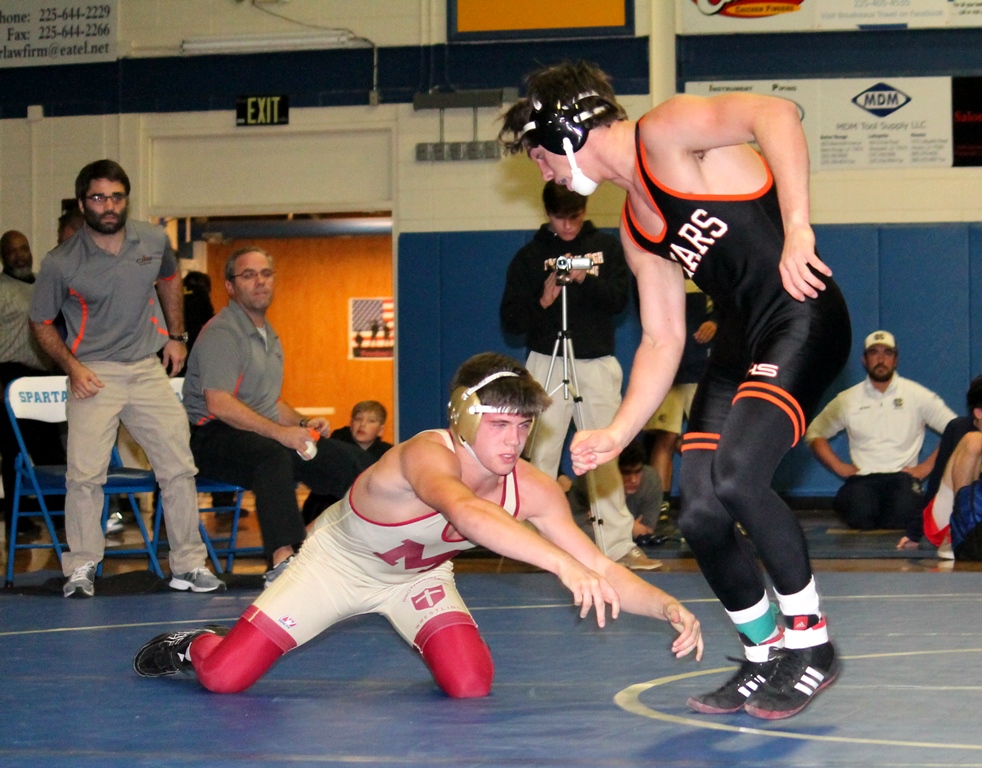 Catholic's top-seed Matthew Mire escapes from third-seeded Mason Williams of Brother Martin.
QUARTERFINALS:
Top-seeded Mire had no problem with Lafayette's Damien Lasseigne, pinning the Lion at 2:44. The second-seeded Hill fared similarly, pinning Comeaux's Kole Miller in 3:01. Williams however, Brother Martin's third seed, had a tough time with sixth-seeded Joe Kerry of Rummel, getting by the Raider 3-0. Stevens had a much easier time. The Division II state champion handily defeated Teurlings Catholic's Brennan Trosclair by a major 13-3 decision (photos below).
SEMIFINALS:
The junior Mire of Catholic had little trouble with the Division II state champion, registering a fall at 3:55.
Williams had a bit of a harder time with Parkview Baptist's Marshall Hill, but ended up with a major decision at 10-1.