Sixteen wrestlers competed for the 106 pounds title. Seeded at the top was Live Oak's returning Division II runner-up Colt Olinde. In a successful beginning to the season, Olinde, a junior, placed second at Live Oak's "Take Down Blindness" and the St. Michael "Warrior Open" at 113 pounds (both times falling to teammate Jacob Chenevert). Moving down to 106 pounds, Olinde won the Central "Wildcat Open." Moving up to 120 pounds, he beat Catholic's Mitch Napoli in a dual meet.

Brother Martin freshman Steven Shields placed second at the Warrior Open to Chris Zea of Holy Cross at 106 pounds. Ten-deep at 106, Shields (the younger brother of Crusader three-time state champion Nick Shields) won the Crusaders' starting spot for the Spartan Open.

Noteworthy contenders in the weight class included Zea (#2), Rummel's Robert Fairchild (#4) and Catholic's Jonathan Bradley (#5).
Colt Olinde and Steven Shields advanced to the finals.

Both wrestlers were aggressive in the first period. Olinde tried several double-leg shots but Shields was able to fend them off with sprawls. The round ended 0-0.

Shields started on the bottom in the second period and tried a stand-up. But Olinde lifted him up and back down to the mat, but it resulted in a tilt move for Olinde and he scored two nearfall points. Shields next attempted a stand-up switch which went out of bounds but was enough to merit an escape point. Shields then shot a double-leg, switched it to a single, and then switch back to a double for his first takedown and lead at 3-2. Shields let Olinde go, resulting in a 3-3 tie, but on an Olinde fireman's attempt, Shields was able to score another takedown with a sprawl allowing him to spin behind Olinde. Shields led 5-3 after two periods.

Shields again let Olinde go at the beginning of the third period, reducing his lead to one. The two sparred for the next 1:40 until a stalemate was called with 20 seconds remaining. Needing two points to win, Olinde attacked the Brother Martin freshman, causing him to back away and lose a point for stalling, tying the match at five all and leading to a "Sudden Victory" round.

In the SV round Shields wasted little time in grabbing a single leg, pulling himself on top of Olinde and between his legs, then clearing his arm for the winning takedown.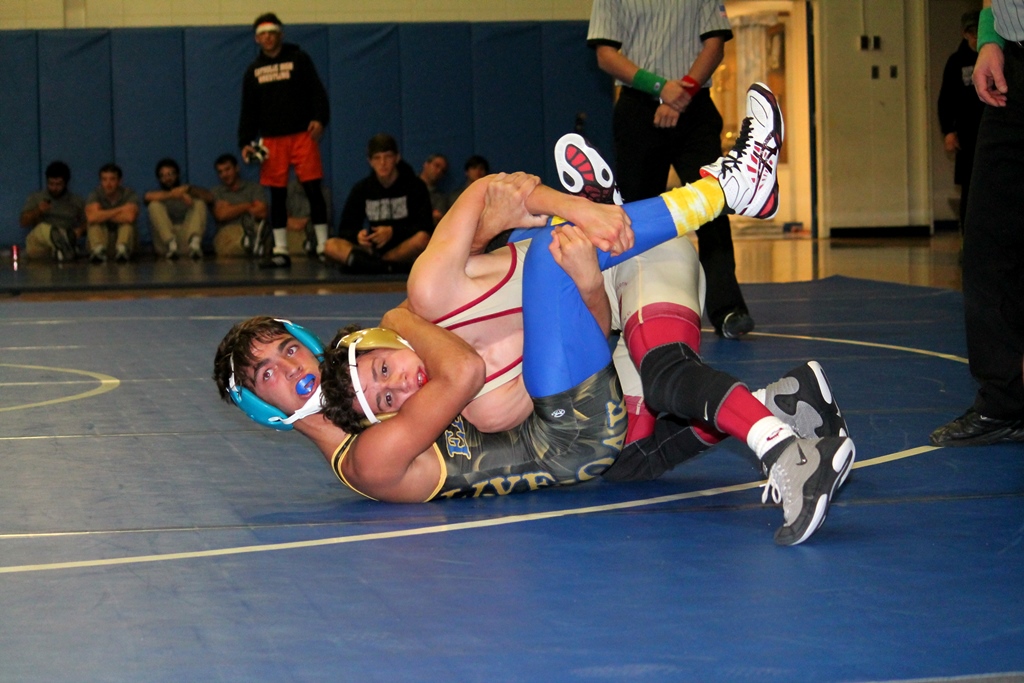 Top-seeded Colt Olinde of Live Oak tries to prevent third-seeded Steven Shields of Brother Martin from scoring in the Sudden Victory round of their 106 pounds finals match. Shields succeeded in scoring the takedown for a 7-5 victory.