Thirteen grapplers competed for the 195 pounds title and six were seeded. Two favorites stood out from the rest of the field. The first was the top-seeded and undefeated junior from Brother Martin, Yehia Riles, a Division I runner-up in 2013. Not far behind as a two seed was senior Daniel Relayson of Holy Cross, whose only loss this season was in a "Sudden Victory" period against Riles at the Mandeville Open. Live Oak's Nicholas Simoneaux, fresh off a Griffin Open championship, was seeded third. Jacob Spohrer of Pearl River (#4), Ian Harter of Lafayette (#5) and Jimmy Do of Baton Rouge (#6) rounded out the seeds.
Both 2013-14 matches between Riles and Relayson have been low scoring affairs which often indicates a slow tempo - but not with these two. Both are just as apt to shoot single-leg and double-leg shots. The problem is that one rarely allows the other a chance to complete them.

Such was the case in this match. Both wrestlers were aggressive in the first period, but neither could score.

Starting on bottom in the second, Relayson escaped after five seconds and took a 1-0 lead. He almost scored another two points but his double-leg trip on the edge was ruled to be off the mat. The round ended with Relayson holding on to his very precarious 1-0 lead.

Riles took less time, only two seconds, to escape from Relayson in the third period to tie the match. But then a Riles single-leg worked and he took, for these two athletes, what might be considered a commanding 3-1 lead. Twenty seconds later Relayson doubled his points with an escape and again almost had a takedown on the edge of the mat. It too was deemed out of bounds. Both were still aggressive to the end, but Riles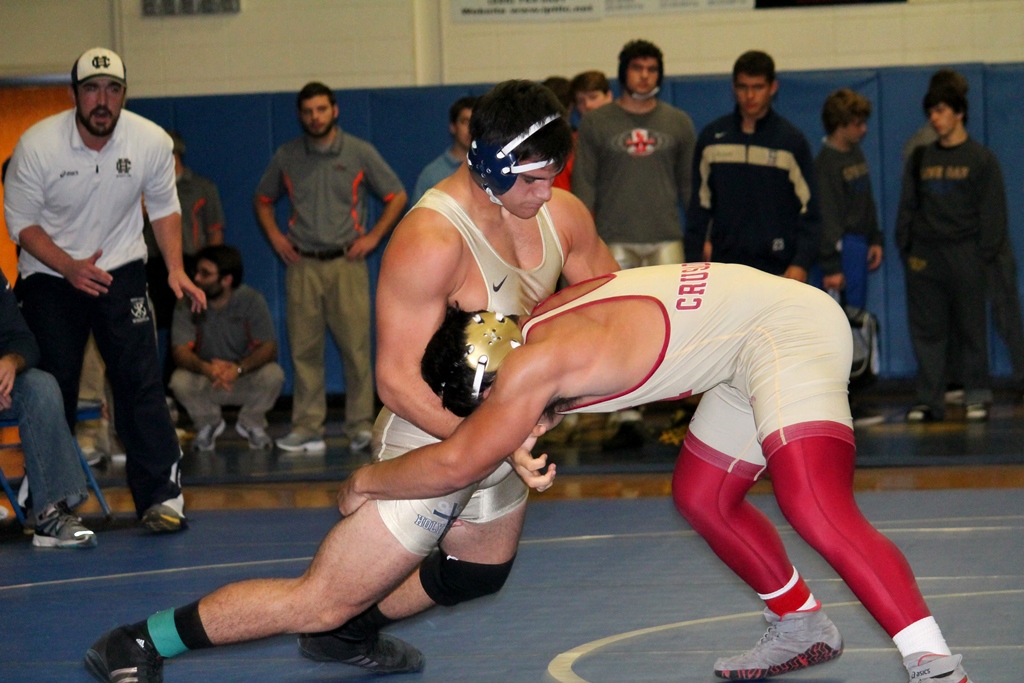 Yeatman sprawls on a takedown attempt by Riles.