Porter Dazet merited the #1 seed with his runner-up finish at Mandeville and a 3-1 record. Seeded second was Brother Martin Nick Comardelle. Wrestling for the first time since his freshman year, the Crusader senior compiled a 6-2 record before entering the tournament, with his losses coming from Live Oak's Brody Bonura and Fontanebleau's Ethan Eisenhardt. The third seed was St. Louis' Blake St. Romain who was followed by McKinley's Tyler Ventress as the fourth seed.
The first period started with Dazet using a single-leg shot to a duck-under for a quick 2-0 lead. Dazet rode Comardelle for the remainder of the period, primarily with a cross-body ride.

Starting the second period on top, Dazet stopped Comardelle's stand-up attempts by lifting him off of the mat and gently placing him back down onto it. Comardelle did manage an escape near the end, but Dazet countered with a single-leg takedown followed by two nearfall points, taking a 6-1 lead.

Dazet started on the bottom in the third period and scored a reversal midway through it for an 8-1 lead. After a reset Dazet opted to start standing, giving Comardelle his second point of the match. Dazet took the Crusader down again to end the match with a 10-2 win.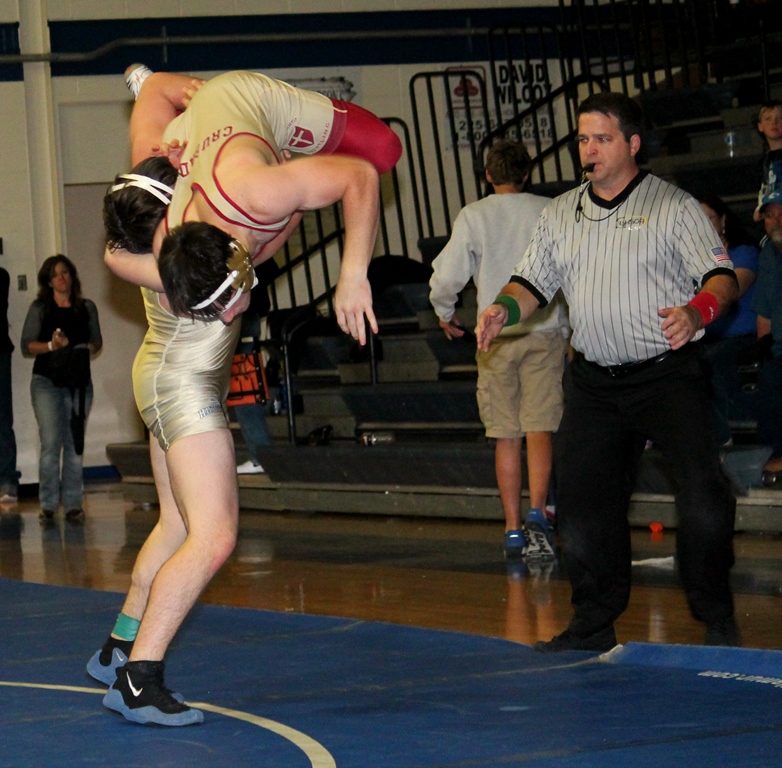 Holy Cross' Porter Dazet lifts Brother Martin's Nick Comardelle off of the mat in the 182 pounds final.
QUARTERFINALS:
The top four seeds all advanced to the semifinals, but in different ways. In the bottom half of the bracket, Comardelle pinned East Ascension's Koi Malarcher in 2:40 and St. Romain pinned St. Michael's Logan Knox in 4:51. The top half proved much more difficult. Rummel's Jimmy Young gave Dazet a very hard match before falling 3-0, and Ventress had a little harder time getting past Matthew Broussard of Baton Rouge by an 8-6 margin.
SEMIFINALS:
Comardelle seemed to score at will against his Division III opponent from St. Louis. St. Romain could not find a way to score on the Crusader, and the second seed won easily 10-0.
The top-seeded Dazet had even less trouble with his McKinley counterpart, pinning Ventress in 3:55.
CONSOLATIONS:
St. Michael's Logan Knox and Rummel's Jimmy Young advanced to the consolation finals, but the match was not wrestled as each had already wrestled five matches on the day.