There were 17 entrants in the 132 pound weight class, but two stood out among the others, at least before the event started, that is.

Brother Martin junior Paul Klein won Division I state titles his freshman and sophomore seasons, and was 4-0 entering the Spartan. He won the Mandeville Open and was the tournaments outstanding wrestler.

On the other side of the bracket was Live Oak senior Cody Hill. Hill won Division II state championships in 2012 and 2013. Hill won the Wildcat Open and the Griffin Open. Four other victories gave him a 12-1 record prior to the Spartan. The "1" was described as a fluke by those who saw it, which is not a bad description. Cody Hill makes few mistakes, so when he does it is rather "flukish."

Also in the bracket was third-seeded Tristan Lee of Teurlings Catholic. The predicted semifinal between Lee and Hill was very significant as Live Oak and Teurlings are expected to vie for the Division II state championship. St. Louis' Grant Camera was seeded fourth and St. Amant's Tristyn Wheeler fifth.
Klein and Hill advanced to the finals.

This was the match everyone wanted to see. But the outcome was not what many expected. Klein dominated Hill in every facet.

Klein scored first. He grabbed a single leg, lifted it and went under Hill's legs to come out behind the Live Oak senior. Klein rode Hill for the rest of the period, although he was warned for stalling at the 1:45 match. How one can stall while controlling Cody Hill on bottom is a quandary for only the deepest thinkers of our age.

On bottom for the second period start Klein stood up and escaped. He then pulled Hill's head down as he grabbed another single leg, switched his attempt to a double and scored his second takedown. He then just let Hill go, a strategy he would use for the remainder of the match. Hill, though, shot a single of his own. Klein, though, defended himself by posting an arm inside Hill's legs to break Hill's grip. Klein then grabbed a single leg again, switched it to a double and scored another takedown. He rode Hill out for the remainder of the round to protect his now 7-1 lead.

In the third Klein let Hill go again. After Hill sprawled Klein flat on the mat after a Klein double-leg shot, Klein was still able to push forward and lift Hill, resulting in another double-leg takedown and a 9-2 lead with a minute left in the match. Klein let Hill go again and the time ran out.

Hill was able to shoot in on Klein, but Klein seemed to be stronger than Hill and just as quick. Hill has faced defeats before and come back the stronger, though, as demonstrated in last season's matches against Catholic's Brennan Taylor. But Klein has also, just not too much against Louisiana competition. It is very feasible the two will meet again during the Trey Culotta on December 20-21. That might be the tournament that decides if either wrestler will drop to 126 pounds to look for their second Louisiana Classic championship.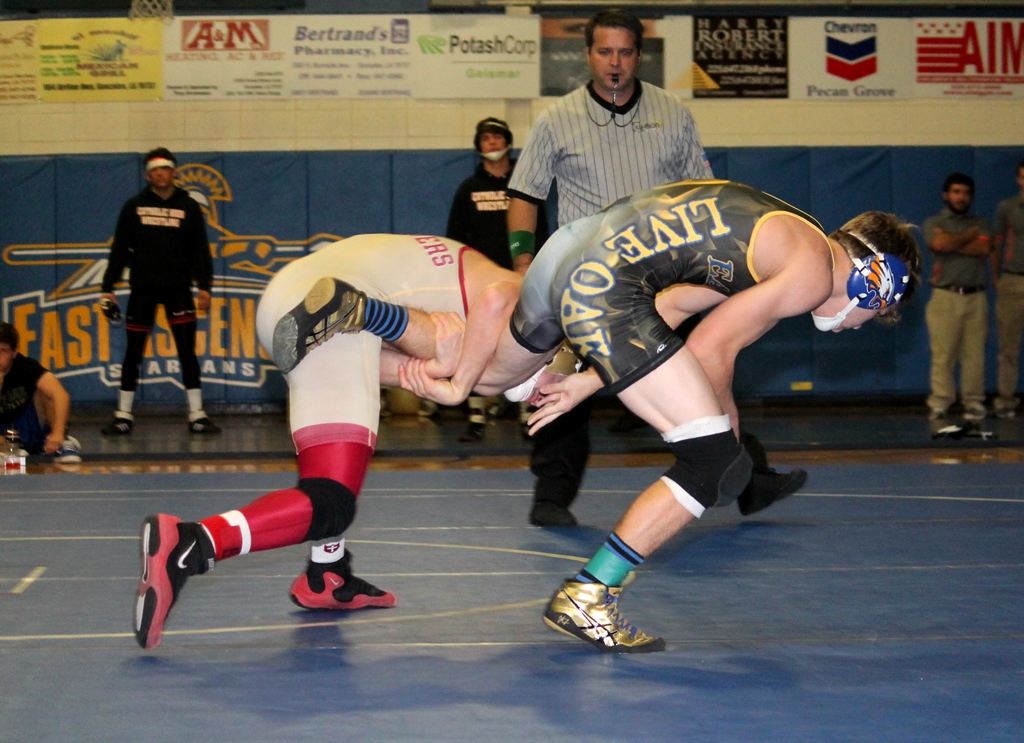 Paul Klein left no doubt as to who was the better wrestler on this day with a stellar 9-3 victory over Cody Hill.
ROUND 2 AND QUARTERFINALS:
Klein pinned Dutchtown's Brendan Warner in 3:20 in Round 2 and needed 4:34 to do the same to John Doyle of Holy Cross (photos below).
Hill spent less time with his Round 2 and quarterfinals opponents. He dispatched North Desoto's Cole Arbuckle in 30 seconds and the Lafayette's Ivan Cortez in 1:29.
SEMIFINALS:
Klein's semifinals opponent was Tristyn Wheeler of St. Amant, his finals opponent at Mandeville. Wheeler fell in 2:57 in their first meeting, but proved stronger in this one, only succumbing to a 15-0 technical fall.

Hill's semifinal was much different than Klein's. His opponent was Teurlings Catholic's Tristan Lee, a Division II state runner-up in 2013. In what could be a prelude to a Division II state finals match, Hill barely escaped Lee with a 3-2 win.