Only three wrestlers were seeded out of the thirteen in the 145 pound weight class. First was Dutchtown junior Brandon Cowell, the Central "Wildcat Open" champion and Griffon Open runner-up, who was 6-1. Seeded second was Brother Martin sophomore Pierce Williams, who placed second at Mandeville and had a 5-1 record. Rummel's Zach Bowman was seeded third.
Cowell and Williams advanced to the finals.

Cowell started the finals in strong fashion, opening up a 2-0 lead after 35 seconds with an ankle pick. Williams was able to stand up and escape, but that led to a Cowell high-crotch takedown. Trying to tilt Williams, the Crusader rolled on top of him and almost had a reversal as time ran out. It was scored an escape and Cowell led 4-2.

On top for the second round start, Cowell rode Williams well, thwarting two stand-up attempts very well. But when Cowell took Williams down from his third stand-up, Williams arm-rolled him for a two point reversal and added two near-fall points. Then Williams scored three more back points. As the round ended Williams led 9-4.

On bottom for the third, Cowell had a tough time escaping from the Crusader's crab ride. A stalemate afforded a repositioning and near the end of the match Cowell caught Williams riding "high" and was able to back out for a reversal, resulting in the final 9-6 score.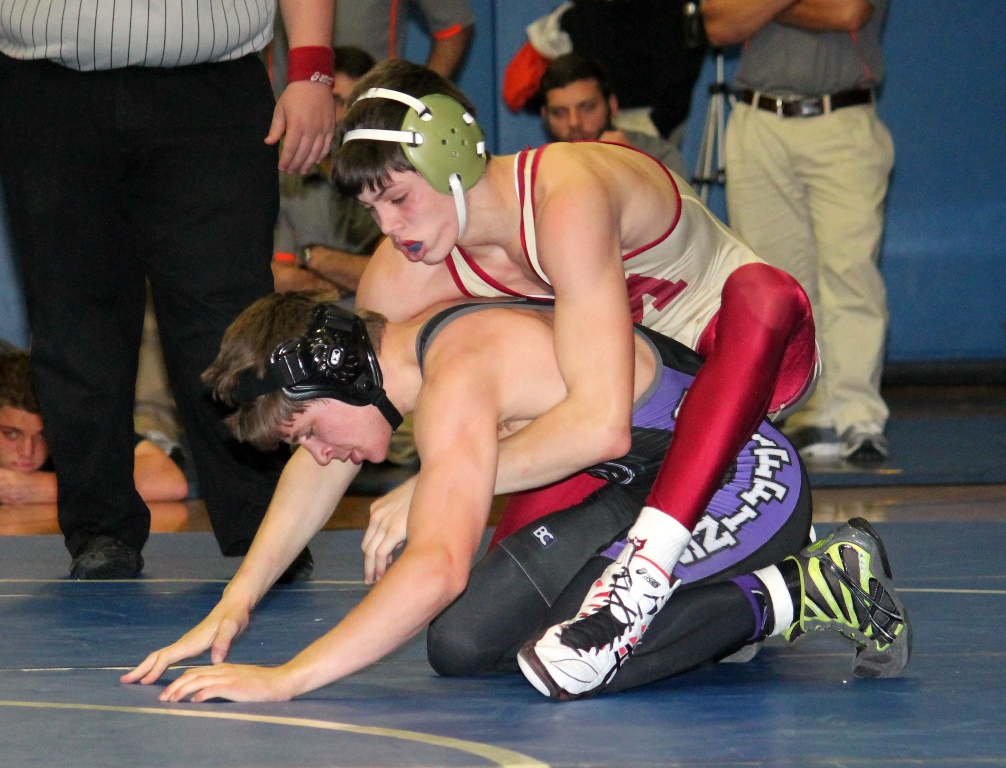 Pierce Williams uses his legs to keep Brandon Cowell from escaping his grasp.
SEMIFINALS:
Cowell dominated his semifinals match, pinning Vidrine in 40 seconds to make the finals. The other semifinal proved much harder for Brother Martin's Pierce Williams, who got past Preston Robichaux of Holy Cross 6-3.
CONSOLATIONS:
Neither semifinals loser made it to the consolation finals. After losing to Vidrine in the quarterfinals, Wilson Lindsey of C. E. Byrd defeated Central's Russell Ball in 2:30, Pearl River's C. J. Hilliard 4-0 and Preston Robichaux of Holy Cross 10-4. It was Dakota Hebert of Teurlings Catholic, who lost to the top-seeded Cowell in Round 1, who advanced past St. Amant's Brockton Waguespack in 2:36, third seed Zach Bowman of Rummel in 1:58 and Vidrine 7-6. Hebert placed third via the fact that the consolation finals would have been Lindsey's sixth match.