Last season 126 was the toughest weight class in the state. Cody Hill reigned supreme, but even he had losses to Catholic's Brennan Taylor. Austin Meyn of Brother Martin won the Louisiana Classic. Stephon Foster of Ehret won the GNO. Taylor won the Division I title. Rummel's Matt Calcote won early and was a two-time defending Division I champion.

This season 138 pounds seems to fit that billing. Catholic's Brennan Taylor entered the tournament undefeated wrestling at 152 pounds and 145 pounds. He was 10-0 with championships at St. Michael and Central. Brother Martin's Austin Meyn was also undefeated at 7-0, winning the Mandeville Open, including matches against Division I runner-up Rick Lacava of Rummel and George Benoit, a twice Division II runner-up from Holy Cross. .

The Spartan Open had four of the dominant athletes in the weight class. Taylor was the top seed and Meyn was second. Lacava was seeded third followed by fourth seed Benoit.
Taylor and Meyn advanced to the finals.

Meyn defeated Taylor in their first three meetings in the 2012-13 season, but fell to the Bear 9-3 in the Division I state finals. This match resembled the first three.

Meyn started the scoring 43 seconds into the first period by forcing a raised single-leg down to the mat. Meyn was able to ride Taylor for another 40 seconds when Taylor stood up and almost scored an escape. While it initially looked like the officials blew the whistle because the two wrestlers when out of bounds, it turned out that Taylor had reopened the cut he sustained in his eyebrow during the semifinals. Upon restarting the match with 38 seconds left in the round, Taylor gained his escape three second later and the round ended with Meyn leading 2-1.

Meyn started the second period on the bottom and stood up and escaped with 1:19 remaining. He then shot a single-leg, lifted it and went under and between his opponent's legs to get behind Taylor and score another takedown. With only 25 seconds left in the round, Meyn had a 5-1 lead which he protected until the period ended.

On bottom for the start of the third period, Taylor again escaped quickly - this time in five seconds. But Meyn responded with a double-leg takedown and was happy to ride out the match for a 7-2 win.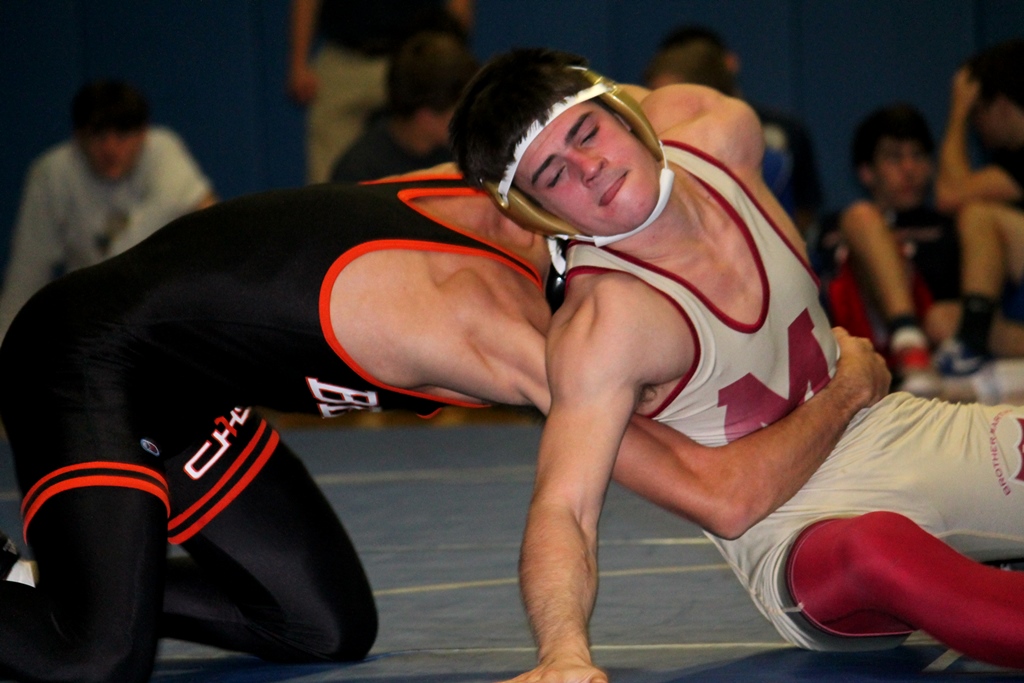 Austin Meyn works to get out of Brennan Taylor's grasp in the 138 pounds final. Meyn avenged last year's state finals loss to Taylor with a 7-2 win.
SEMIFINALS:
The semifinals match between Taylor and Benoit was one of little mistakes and massive courage. Taylor built an early lead, but either late in the second or early in the third period Taylor suffered a deep cut in his left eyebrow, prompting the first of four breaks for "blood time." During the remainder of the match Benoit saw his chance to take down Taylor, let him escape, and take him down again. Having tied the match with a takedown, Benoit tried to hold Taylor down to force overtime and continue his momentum. But the resilient Taylor escaped to take an 8-7 lead, and then took Benoit down for a 10-7 lead. Benoit escaped again but it was too late to try to take Taylor down again, and the match ended in a 10-8 Taylor victory. Some fans were upset that Benoit was penalized three points for false starts and lining up off of the mat lines. Benoit, however, took full responsibility for every aspect of the match, admitting he still had some important, if little, things to work on.
| | |
| --- | --- |
| | |
| A Catholic coach tries to stem the blood flowing from Brennan Taylor's left eyebrow in his semifinals match against George Benoit. | Benoit, during a break while Taylor was being tended to, listens to instructions from Coach Carlos Bertot. |
Meyn and Lacava had not met previously and this match again proved how hard the 138 pound weight class is. The two traded points throughout, but Meyn persevered with a 9-7 win.
CONSOLATIONS:
Lacava and Benoit had never met either. But after a very tough 3-0 win over C. E. Byrd's Kenny Battle in the consolation semifinals, Benoit shined in this match, pinning the third-seeded Lacava with a throw at 2:20.