The 113 pound weight class had nine competitors vying for the title, including defending state champions from Division I and Division II.

The first rematch of a 2013 Division I state championship came in the forms of Brother Martin's Mason Mauro (#1) and Rummel senior Devyn Breaud. Last February, as a sophomore, Mauro defeated Breaud 10-5 in the 106 Division I finals, starting the Crusaders' record breaking performance.

This was Breaud's first competition of the season, whereas Mauro had two matches and a Mandeville Open championship to his credit thus far. But this match belonged to Breaud and was over in 27 seconds. Breaud also had to get past the third seed, Division II state champion Jacob Chenevert of Live Oak. That match was closer, though, than the final 12-6 score. Chenevert went on to place third.

Mauro and Breaud advanced to the finals.

Devyn Breaud of Rummel seems taller than last season and he was able to use his height to his advantage against Mauro. The Crusader grabbed a single-leg and tried to bring Breaud to the mat with an inside trip, but as the two fell the Raider applied a wicked cross face, knocking Mauro off balance and turning him to his back. Breaud scored a fall at 0:27. In the 2012-13 season Breaud entered six tournaments yet only came away with a Teurlings Catholic "Rebel Open" title. In 2013 he is one for one. Expect to see this match-up a few more times this season.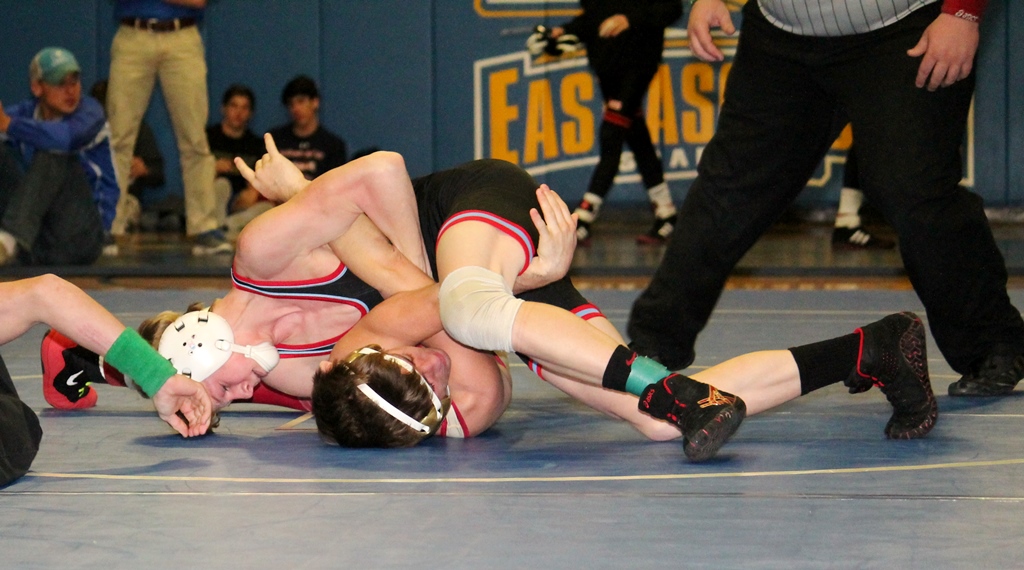 Second-seed Devyn Breaud of Rummel threw Brother Martin's returning state champion to a fall in 0:27.
QUARTERFINALS:
Perhaps the worst draw (or the best according to a philosophy shared by many coaches) was that of Doyline sophomore Brittany Bates. The first match of her 2013-14 season was against the defending Division I state champion Mauro. After an 8-0 victory over Rayne's Bobby Cormier in her first consolation match, she next faced defending Division II state champion Chenevert. Albeit both state champs "teched" Miss Bates, they could not pin her, and they both mentioned that it was very difficult to turn Miss Bates to gain nearfall points.
Second seed Devyn Breaud pinned St. Amant's Brier Babin in 1:15. Live Oak's Jacob Chenevert fared as well with a pin at 2:15 over Walker's Hunter Mallett.
Top-seeded Mauro was unable to pin Doyline sophomore Brittany Bates and settled for a 17-1 technical fall.
SEMIFINALS:
In what seemed like a closer match, Rummel's Devyn Breaux scored 12 points to Jacob Chenevert's 6 in the second 113 pounds semifinals.
The top-seeded Mauro had little trouble with Teurlings Catholic's Luke Kilchrist, scoring a fall in 0:30.
CONSOLATIONS:
After her loss to Mauro in the top of the championship bracket, Brittany Bates found herself in Jacob Chenevert's side of the consolation bracket. Like Mauro before him, Chenevert could not pin the Doyline sophomore and had to settle for a 20-2 technical fall.
Chenevert scored quickly and easily in the consolation finals, building a 10-2 third period lead before pinning Kilchrist in 4:25.