The 170 pounds weight class had the most entrants at 18, but only four were deemed seed-worthy. Holy Cross' Brice Duhe won the Mandeville Open with a third period fall over Brother Martin's Travis Quarterman. Anyone who might have thought Holy Cross junior Brice Duhe was not worth any preseason hype should now be convinced. The Division II runner-up of 2013 was not only undefeated, but undefeated against some high quality opponents - ones he will likely face in the latter rounds of the LA Classic and the state championships. St. Paul's Chase Cochran, Mandeville's Frankie Arena and Shaw's Kody Woodson also lost to Duhe this year.

Duhe was the top seed. After a runner-up finish at St. Michael and victories at the Griffin and Wildcat opens, Live Oak's Brody Bonura was seeded second. His runner-up finish at Mandeville, including a win over Woodson, propelled Quarterman to the third spot and Mitchel Youngblood of St. Michael was seeded fourth.
Quarterman, as is his wont, was very fast on his feet at the start of the finals. But a long range single-leg attempt backfired on him when Duhe caught an underhook with one arm and ripped the Crusader to his back. Securing Quarterman's head and grabbing a leg as well, Duhe scored a fall in 52 seconds.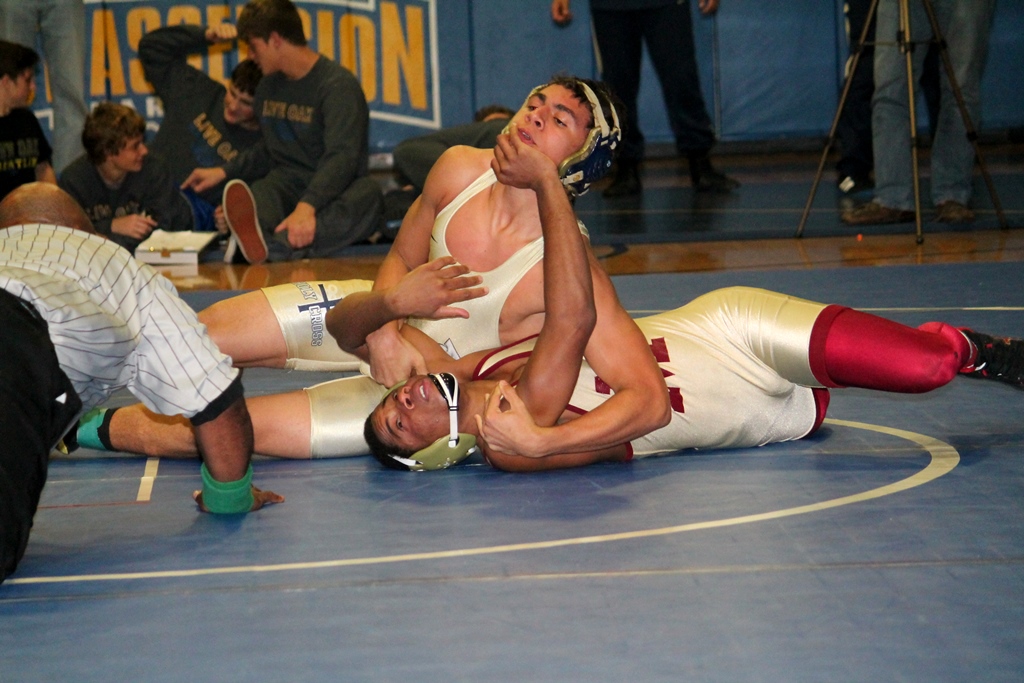 Holy Cross' junior Brice Duhe pinned Brother Martin's Travis Quarterman in 52 seconds. It was Duhe's second fall against the senior Crusader.
QUARTERFINALS:
Three of the top four seeds dominated their quarterfinals matches. Fourth-seeded Mitchel Young of St. Michael, though, had a tough time with Teurlings Catholic's Jordan Averett, but escaped with a 6-5 win
SEMIFINALS:
Duhe did not let Youngblood celebrate his quarterfinal win very long. The tiger needed all of 66 seconds to pin the Warrior.
Quarterman had a tougher time against the second-seeded Bonura, but dominated his Live Oak opponent nonetheless in a 13-6 match.
CONSOLATIONS:
In the consolation finals Bonura and Youngblood met for the second time this season. Bonura pinned Youngblood in 3:02 at the Wildcat Open but needed a little more time in this instance, finally earning a third period fall in 4:40.