As a freshman, Brother Martin's Taylor Gambill started with 28 straight wins against Louisiana wrestlers. His only losses to Louisiana foes came in the two hardest tournaments in the state: the Louisiana Classic and the Division I State Championships. So far in the 2013-14 season, he stands at 8-0 with wins at the Mandeville Open and now the Spartan Open.

Fifteen wrestlers vied for the Spartan Open 126 pounds championship. One was Rummel's Tyler Mire, who finished fifth at State in 2013 and netted the second seed at East Ascension. Holy Cross' Collin Guerra was the third seed, followed by Live Oak's Brennan Webb (#4) and Matt Ashford (#5) of the home Spartans.

Guerra may be one of the most improved wrestlers of this early season. The junior, who finished runner-up to Cody Hill of Live Oak in 2013, is 8-2, only losing to Gambill so far (they met in the Mandeville Open semifinals, in which Guerra placed third) by a combined score of eight points.
Gambill and Guerra advanced to the finals.

Gambill started the scoring by countering a head and arm shuck of Guerra's with one of his own, ducking behind for a takedown. Gambill the used knee blocks and crab rides to keep Guerra controlled, but in attempting to turn the Tiger wrestler he was called for an illegal hold, giving Guerra a point. The round ended in a 2-1 Gambill lead.

In the second period Gambill again controlled his opponent with knee blocks and crab rides. At the end of the round a spectacular flurry of activity was started when Guerra tried a Granby roll which ended with both wrestlers facing each other on their knees. Gambill immediately tried a lateral drop and was able to turn Guerra over, but the wrestlers went out of bounds. No points were awarded and the match score remained 2-1.

In the third period Gambill rolled Guerra for a reversal and a 4-1 lead. But he again rode his crab ride a little high, and Guerra took advantage by backing out of it. Facing each other again (with Gambill still holding onto control) Gambill tried to throw Guerra. Guerra rolled through the throw but ended up under a Gambill crab ride again. But somehow Guerra got an arm around Gambill's back while in that position, which was enough for the official to score a reversal as the two wrestlers went out of bounds. It was Guerra's turn to throw in the legs and he strained to put Gambill in a guillotine, but to no avail. Eventually he rode too high and Gambill was able to roll him for a reversal before the match ended, preserving a 6-3 win.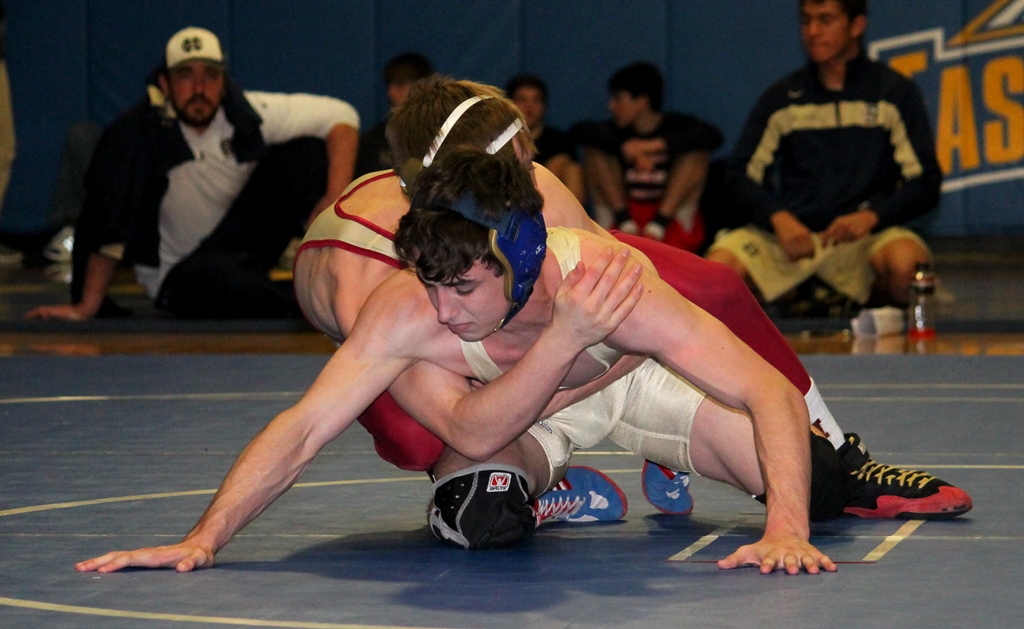 Taylor Gambill defeated Holy Cross' Collin Guerra for the second time this season, 6-3.
QUARTERFINALS 2: (Left) Live Oak's Brennan Webb rides Matthew Ashford of East Ascension, but the fifth-seeded Ashford proved dominant in a 9-2 win, advancing to the semifinals vs. Gambill. (Right) Gambill scored a 20-5 TF on North Desoto's Christopher Hall.
SEMIFINALS: Gambill defeated Ashford for the second time this season with a fall at 1:10. On the other side of the bracket, Guerra of Holy Cross upset Tyler Mire of Rummel 5-2.